Hosted by Jamie, Jana and Lauren of
BrokeandBookish.com
, Top Ten Tuesdays is a weekly book meme that presents top ten lists on Tuesdays that promotes favorite bookish themes.
This week's theme:
November 8: Ten Books I've Added To My To-Be-Read List Lately (inspired by my New to the Queue posts)
7. Where Am I Now?: True Stories of Girlhood and Accidental Fame by Mara Wilson
Synopsis:
For readers of Lena Dunham, Allie Brosh and Roxane Gay, this funny, poignant, daringly honest collection of personal essays introduces Mara Wilson—the former child actress best known for her starring roles in Matilda and Mrs. Doubtfire—as a brilliant new chronicler of the experience that is growing up young and female.
Mara Wilson has always felt a little young and a little out of place: as the only child on a film set full of adults, the first daughter in a house full of boys, the sole clinically depressed member of the cheerleading squad, a valley girl in New York and a neurotic in California, and one of the few former child actors who has never been in jail or rehab. Tackling everything from how she first learned about sex on the set of Melrose Place, to losing her mother at a young age, to getting her first kiss (or was it kisses?) on a celebrity canoe trip, to not being "cute" enough to make it in Hollywood, these essays tell the story of one young woman's journey from accidental fame to relative (but happy) obscurity. But they also illuminate a universal struggle: learning to accept yourself, and figuring out who you are and where you belong. Exquisitely crafted, revelatory, and full of the crack comic timing that has made Mara Wilson a sought-after live storyteller and Twitter star, Where Am I Now? introduces a witty, perceptive, and refreshingly candid new literary voice.
I loved Matilda and Mrs. Doubtfire as a kid and thought Mara was adorable as a child actor. I follow her on Twitter, and her tweets are some of the most witty and intelligent ever. I hope her book is like her personality on social media.
6. The Sun is Also a Star by Nicola Yoon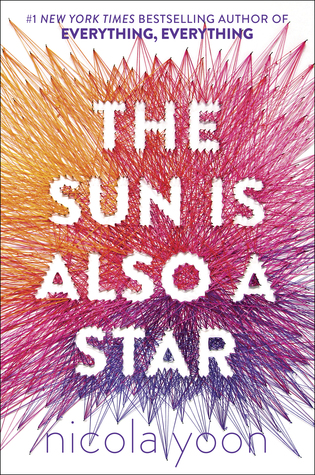 Synopsis:
Natasha: I'm a girl who believes in science and facts. Not fate. Not destiny. Or dreams that will never come true. I'm definitely not the kind of girl who meets a cute boy on a crowded New York City street and falls in love with him. Not when my family is twelve hours away from being deported to Jamaica. Falling in love with him won't be my story.
Daniel: I've always been the good son, the good student, living up to my parents' high expectations. Never the poet. Or the dreamer. But when I see her, I forget about all that. Something about Natasha makes me think that fate has something much more extraordinary in store—for both of us.
The Universe: Every moment in our lives has brought us to this single moment. A million futures lie before us. Which one will come true?
I've actually never read any of Nicola's books, but I've heard so many booktubers and reviewers say that both this book and Nicola's debut Everything, Everything were really good. So I can't wait to read them!!
5. Something in Between by Melissa de la Cruz
Synopsis:
It feels like there's no ground beneath me, like everything I've ever done has been a lie. Like I'm breaking apart, shattering. Who am I? Where do I belong?
Jasmine de los Santos has always done what's expected of her. Pretty and popular, she's studied hard, made her Filipino immigrant parents proud and is ready to reap the rewards in the form of a full college scholarship.
And then everything shatters. A national scholar award invitation compels her parents to reveal the truth: their visas expired years ago. Her entire family is illegal. That means no scholarships, maybe no college at all and the very real threat of deportation.
For the first time, Jasmine rebels, trying all those teen things she never had time for in the past. Even as she's trying to make sense of her new world, it's turned upside down by Royce Blakely, the charming son of a high-ranking congressman. Jasmine no longer has any idea where—or if—she fits into the American Dream. All she knows is that she's not giving up. Because when the rules you lived by no longer apply, the only thing to do is make up your own.
This is also another book that a lot of booktubers and reviewers have given rave critisism over. Also, this book sounds like something that would fit next year's Diverse-A-Thon, so I hope to read it in time before then.
4. Shadow & Bone by Leigh Bardugo
Synopsis:
Surrounded by enemies, the once-great nation of Ravka has been torn in two by the Shadow Fold, a swath of near impenetrable darkness crawling with monsters who feast on human flesh. Now its fate may rest on the shoulders of one lonely refugee.
Alina Starkov has never been good at anything. But when her regiment is attacked on the Fold and her best friend is brutally injured, Alina reveals a dormant power that saves his life—a power that could be the key to setting her war-ravaged country free. Wrenched from everything she knows, Alina is whisked away to the royal court to be trained as a member of the Grisha, the magical elite led by the mysterious Darkling.
Yet nothing in this lavish world is what it seems. With darkness looming and an entire kingdom depending on her untamed power, Alina will have to confront the secrets of the Grisha . . . and the secrets of her heart.
Shadow and Bone is the first installment in Leigh Bardugo's Grisha Trilogy.
Because of
Sam from ThoughtsonTomes
' epic love for this series, it's made me so curious to read it. This one and Six of Crows, but I've been told that I have to read the Grisha Trilogy before Six of Crows so I can get a better idea of what Leigh's world is like.
3.
The Statistical Probability of Love at First Sight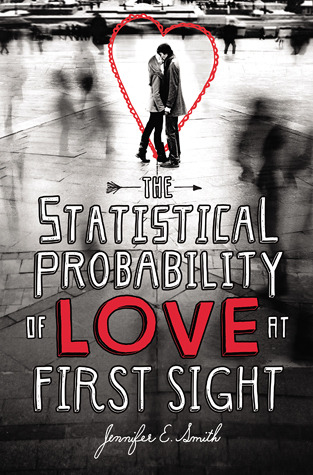 Synopsis:
Four minutes changes everything. Hadley Sullivan 17 misses her flight at JFK airport, is late to her father's second wedding in London with never-met stepmother. Hadley meets the perfect boy. Oliver is British, sits in her row. A long night on the plane passes in a blink, but the two lose track in arrival chaos. Can fate bring them together again?
Being a lover of love/attraction at first sight, I'm intensely curious about this book.
2.
Everything, Everything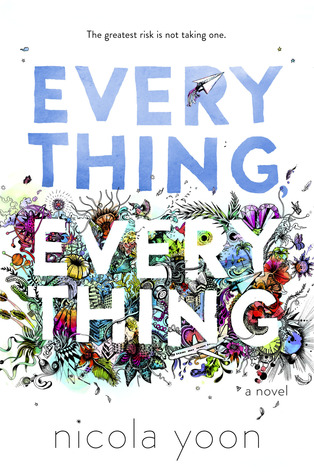 Synopsis:
My disease is as rare as it is famous. Basically, I'm allergic to the world. I don't leave my house, have not left my house in seventeen years. The only people I ever see are my mom and my nurse, Carla.
But then one day, a moving truck arrives next door. I look out my window, and I see him. He's tall, lean and wearing all black—black T-shirt, black jeans, black sneakers, and a black knit cap that covers his hair completely. He catches me looking and stares at me. I stare right back. His name is Olly.
Maybe we can't predict the future, but we can predict some things. For example, I am certainly going to fall in love with Olly. It's almost certainly going to be a disaster.
The girl described in the book, Madeline, sounds like a lot like me. I'm not allergic to everything, but I'm such a homebody, that it feels like I'm allergic to everything I touch whenever I step out of the house. I hope to relate more when I read it.
1.
Six of Crows (Six of Crows #1)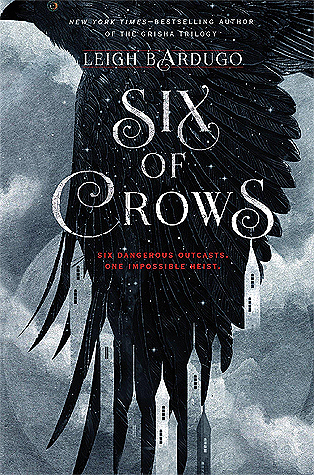 Synopsis:
Ketterdam: a bustling hub of international trade where anything can be had for the right price—and no one knows that better than criminal prodigy Kaz Brekker. Kaz is offered a chance at a deadly heist that could make him rich beyond his wildest dreams. But he can't pull it off alone...
A convict with a thirst for revenge
A sharpshooter who can't walk away from a wager
A runaway with a privileged past
A spy known as the Wraith
A Heartrender using her magic to survive the slums
A thief with a gift for unlikely escapes
Kaz's crew are the only ones who might stand between the world and destruction—if they don't kill each other first.
Like I said before, I've been advised by Sam to read Shadow & Bone first, then Six of Crows, so I can understand the setting better. Excited!!
What are some of your recent TBR List additions? Leave comments below!
Follow me on:
Thanks for reading! :) ♥