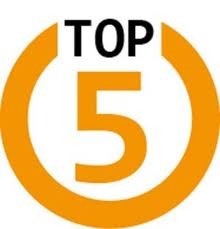 Hey guys! This is a new feature I joined from
Goodreads' Top 5 Wednesdays
, a weekly book group about our top five favorite things in the middle of the week.
Created by
Lainey from GingerReadsLainey
and now hosted by
Samantha from ThoughtsonTomes
, this week's entry describes the top characters I'd invite for my super-awkward New Year's Eve party.
5. Fred and George Weasley: 'Harry Potter'
They'd cause so much mischief and chaos, they'd know how to make a boring party hella fun!
4. Magnus Bane: 'Shadowhunters'
Another glittery, sparkly wizard who would cause so much mischief. Also, we'd throw so much shade towards everyone else. It'd be hilarious; he and Effie would also get along really well and throw shade together lol.
3. Rose Hathaway: 'Vampire Academy'
Rose would tear up that party no matter what, literally and/or figuratively! Especially if she found anyone making fun of anyone she cared about. She'd get along with Fred and George Weasley, as a matter of fact.
2. Isabelle Lightwood: 'Shadowhunters'
Isabelle would show all the girls and boys who's boss!! Plus, she knows Magnus, so they'd be fabulous together.
1. Alice Cullen: 'Twilight'
Alice and Magnus would fight and curse each other out about decorations, food, lighting, and anything to do with the party itself. It'd be amazing!!
So those are my choices to invite to my NYE party. I'd love to know yours in the comments below!
Also, my family is coming over for the holidays, so if I don't post as often, that's why. I hope you all have a lovely and safe holiday! ♥
Follow me on:
Thanks for reading! :) ♥