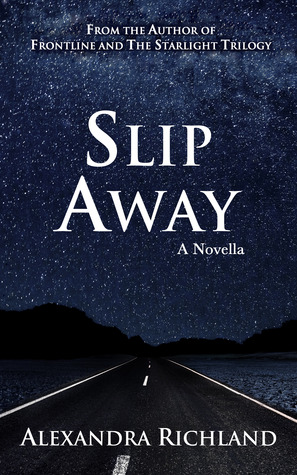 Alexandra Richland's "Slip Away" in a nutshell:
Multiple Grammy-award winning Singer-songwriter Charlotte Kenner is finishing her tour promoting her album, and she's feeling a bit overwhelmed by the way her career is going so far. She's been in the music business for a while, so she definitely knows her way around. But she still feels like something is missing. She's especially worried that the routine of her life will make her lose her creativity as an artist. So when her close friend director Matthew Selman asks her to do him the favor of meeting reclusive bassist of the famous grunge band Clever Check, Ethan Avery, for his documentary on the band, she travels to Montana to get some information. What she wasn't expecting was to fall for him!
*SPOILER ALERT.....SPOILER ALERT*
This book was really cute! I enjoyed most of the pacing of it; some parts in the middle were a little slow, but the beginning and ending were fantastic. I liked how easy and open Charlotte and Ethan's relationship started, from friendship to a budding romance, even with the annoying hounds of paparazzi following them everywhere.
I got a little worried when Aaron from Phantom Rhage, another grunge band member and friend of Charlotte's, admitted (but not to her) of his feelings, but it was clear that Charlotte had deeper feelings for Ethan.
I must admit, when Ethan said he thought of Charlotte as a "little sister" during the press conference at Toronto International Film Festival, aka TIFF, for the documentary, I cried! Because I wanted them to be together, and when he said that, it tore me apart, and I could tell that Charlotte was devastated. But at the end, at a Clever Check concert, when Ethan sang the song that he showed Charlotte in Montana, and the screen of the stadium showed a painting of her, Charlotte just ran to the stage and made out with him, that was my favorite part!! That ending completed the whole book for me, full circle!
My other favorite part was during the TIFF press conference, when a reporter asked why Charlotte and Ethan were holding hands after getting bombarded with paparazzi, Ethan defended her by basically explaining what happened, that he was only trying to get her to her car, by protecting her.
In general, I really liked this book. Richland's writing style made you both relate to both Charlotte and Ethan as to why they love what they do and who they are in the industry. I liked how it also didn't just tell you "the industry is this long road and you can't get out of it" type of ordeal. It actually showed both the positives and negatives of the industry.
Slip Away is a perfect book for the summer if you want something that's fun, sweet, light-hearted, relaxing, charming, or all of the above! I can't wait to see what else Richland comes up with.
Buy the book HERE!
Rating: 5/5