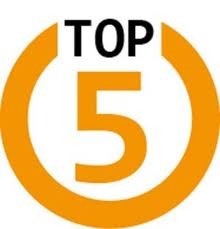 Hey guys! This is a new feature I joined from
Goodreads' Top 5 Wednesdays
, a weekly book group about our top five favorite things in the middle of the week.
March 29th- Future Classics
--Let us know the books you think will be considered classics one day!
5. ROOM by Emma Donoghue - I've only seen the movie twice and read half of the book, but the movie had more of an effect on me than the book. A 5 year old's perspective on his life in a very small, secluded place he calls Room, with his mother, who was kidnapped and abused by Old Nick. I don't want to spoil, but the movie was so profound in how a mother will do anything to protect her child, and how a young boy's life is turned upside down just by being outside. Kids should have that right to be kids, and this book/movie shows that he had a good life.
4. THE HUNGER GAMES by Suzanne Collins - We're already living in the Districts right now, and the POTUS is worse than President Snow, so it's a no-brainer that this series will be a cult classic one day. If it isn't already.
3. THE FAULT IN OUR STARS by John Green - I've seen people say that they think this book will be a classic too, but to be honest, I don't really see it. If anything, it's a very good book and movie, but a classic? Not really sure. I don't even know why I added it to this list lol. Maybe because Hazel and Gus are two halves of YA's best cancer-ridden couples?
2. THE TWILIGHT SAGA by Stephenie Meyer - Regardless of what you think of these books personally, the plot, the romance, the fantasy, you can't deny that these books mostly brought us into the YA book community. I'm especially grateful and hope the day that Twilight will be considered a classic.
1. HARRY POTTER SERIES by JK Rowling - Do I need to say anything else? I'm surprised that HP isn't a classic already!! This series expresses nothing but friendship, bravery, honesty, truth, wise old men, growing up, and becoming your own hero. So much needed in a classic series.
So those are my choices for future classics. Let's discuss your choices in the comments below!